Confession: Every meal I cooked in the past 3 years was inspired by a Pinterest-pin. Pinterest boards basically planned my entire wedding for me. The good news is that I'm far from alone in this. Pinterest is not only one of the biggest social media sites on the internet, it is one of the fastest growing. Pinterest's active user base grew by 26% last year, to approximately 335 million active monthly users. Although Pinterest has grown to become the third largest social network in the USA, the majority of the site's users are today found elsewhere. The consequence of this rapid growth for marketers is clear: Since 2018 there has been the option to publish ads, and savvy users have been using Pinterest to grow their brands since long before that. The following article will introduce you to the magical world of pins and pin boards. Find out here how to track your efforts in your analytics correctly and compare Pinterest against other channels. Let me explain you how to set up your Pinterest tracking with UTM parameters!
What you will learn in this article
What are UTM parameters, and how do they relate to Pinterest?
As a visually-centric experience, Pinterest has incredible potential upside for a team who can produce high-quality visual marketing content. However, it is not up to the marketers themselves to decide if their content is high quality or not. What separates great marketing content from mediocre is not how proud the creator is of the post. It is not how impressed the marketing manager was when they reviewed it. The measure of quality for marketing content is whether the content had the desired effect on the audience. It is your task to find out what judgement the pinning community have passed on your content. This is where UTM parameters come to play. They are a way to add additional information onto each link leading to your website telling you exactly where the click happened externally. You always find them after the basic URL of your website. Although they vary from one link to the next, you will typically see the terms 'Source', 'Medium' and 'Campaign'. You have probably seen a link which looks something like this:  
https://www.einfach-machen.blog/wedding-guide?utm_source=pinterest&utm_medium=social-paid&utm_campaign=2-3_en_yellow
That extra text at the end of the link is the key to understanding whether a campaign is really delivering return on investment.
Learn all the bits and pieces about UTM parameters, why they exist and why they are important for your tracking
Pinterest tracking information
There are some important parts to dissect here. There are three UTM parameters included: Source, Medium and Campaign. These three parameters basically act as delimiters, or placeholders. utm_source records the website on which the link appeared. In this case, of course, it is Pinterest, but I'm sure your business has at least one eye on other marketing channels. The second parameter, utm_medium, here records whether the link appeared in an organic post, or in one of Pinterest's growing number of ads. Other options are also possible under the utm_medium parameter. The third parameter, utm_campaign, records three different pieces of data, each separated by underscore: The aspect ratio of the content (in this case, 2:3), the language of the text in the content (en) and the colour of the text (yellow). 
Where do I find UTM-Links on Pinterest?
On Pinterest you don't just collect and repost pinned pictures and videos, you can also upload your own inspirational content. Be it hunger-inducing snapshots of Buddha Bowls to promote your latest blogpost, a teaser video of a new workout routine or your new product in action – a pin says more than a thousand tweets. When you upload a picture, you have the option of including some information like the title, a description and a destination link of the pin. This destination link is where you include the UTM_Parameters to track the success of your marketing.
Although you should use UTM tagging on all your inbound links, this rule is even more true when you are pivoting into paid marketing. When you spend money on your social media, you simply must know whether you are generating a return on investment. You need data in order to optimise your marketing performance. You can find the full list of Pinterest Specs here to learn how to create your first pin. An example of a link you would include in this pin could be the following, which we dissected above:
http://www.einfach-machen.blog/wedding-guide?
utm_source=pinterest&utm_medium=social-paid&utm_campaign=2-3_en_yellow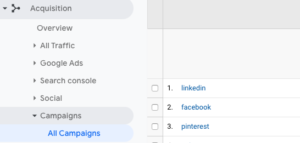 All this information you will find now in your (Google) Analytics, when you go to Acquisition > campaigns and then sort by source, medium or campaign. Concerning Pinterest, you can see how it performs compared to other social media platforms like Instagram or Linkedin.
Why Pinterests' Analytics isn't enough
Don't get me wrong: There is a wealth of useful information to be found in your Pinterest Analytics. The insights area, which lets you check on your organic and paid pin performance is offered to everyone with a Business account. As you can see in the Screenshot, there are KPIs like Engagement rate, Total audience, Link clicks or Close-ups.
You can find even more interesting KPIs in the Ad Manager. You will be able to access a collection of information around which you can design your marketing budget. These KPIs include spend, total impressions, link clicks and saves. Useful as this is, it has its limits. For example, you need to know whether your content performs better on Pinterest, or on any other platform. You probably also want to know which picture format performed better in which target group. This is the information you can harness with a consistent UTM setup. It's important to really understand where the data is collected with UTMs: Google Analytics records the clicks that land on your domain. So although UTMs allow you to collect information about your Pinterest marketing (or your marketing anywhere else), the data isn't collected by Pinterest, or anything like that. It's simply a record of the clicks that land on your domain, where the clicks are all tagged with detailed information about where they came from. You can then break down the data in Google Analytics, to begin getting a real insight on how your content has been performing. 
I prepared some examples for you that show you the full potential of having your marketing data all in one place and using UTM Parameter for your Pinterest A/B Testing:
Examples of A/B tests you can do with UTM parameters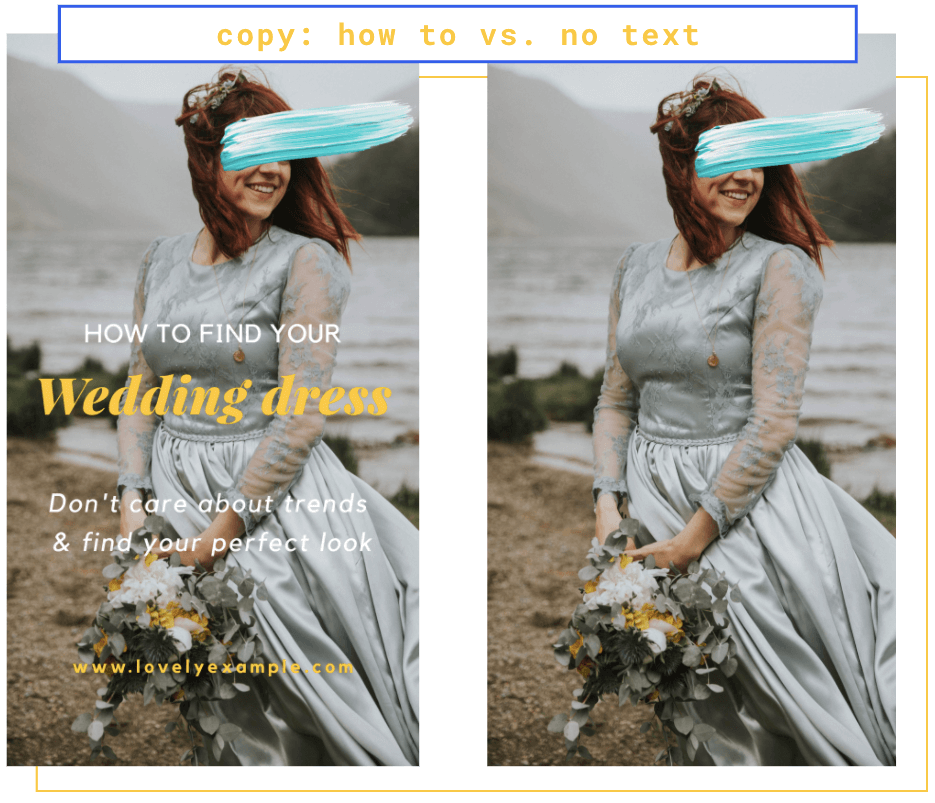 As Pinterest is all about visuals it is key to find out which aesthetics work well on the platform. For some topics it might be best to trigger the user with a great copy and CTA, whereas other times it could be better to present them with a blank picture. Let's stay with our example of the wedding dress guide: Testing a version with and without copy helps you to find out if the brides to be prefer to collect just nice pictures for a mood board or if they actually want to fill their boards with advice and articles.
Use UTM Parameter on Pinterest to compare colour schemes
If you found out that your audience prefers the text version, why not try to check out which colour scheme works best. Of course also here you should orientate on your brands corporate identity.
Use UTM ParameterS to compare picture sizes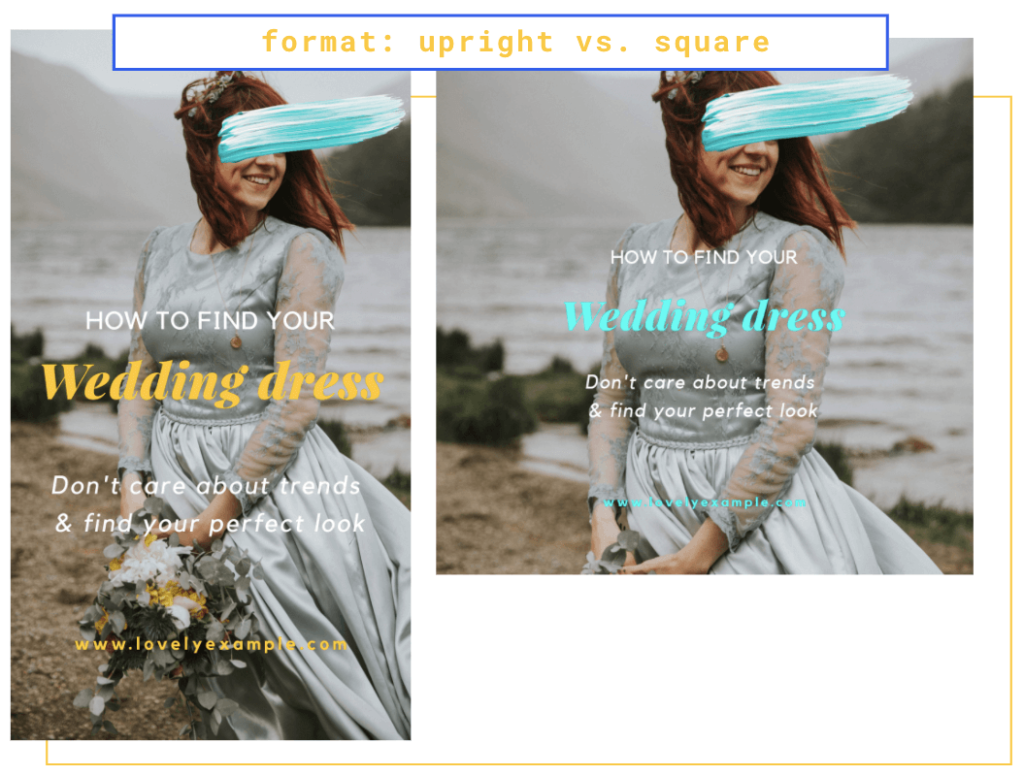 As you can see in the Pinterest Specs that I linked you above, there are different picture formats possible on Pinterest. In addition you find a list of Pinterest Ad formats here. If you set your tracking up, you can see whether users love your content in 6:19, 2:3 or as a square best!
Pinterest tracking needs consistent UTM parameters
We have now covered the basics of UTM parameters on Pinterest: What they are good for, where to include them in your pinning process and where to find them in your Analytics. However, it would be remiss not to discuss the main pitfall that occurs with UTM tracking: Inconsistency. In order to get value from UTM tracking, I need to be able to compare one campaign to the next. If my UTM tagging is poorly executed, this comparison may end up being akin to comparing apples with oranges. The example URL we dealt with in this article recorded five pieces of data: The source of the click, whether the pin was boosted or not, the aspect ratio of the pin, the language of the pin, and the colour scheme of the text. If those are the five variables I'm interested in tracking, I must track those same five variables in every single marketing link I publish. Whether on social media, via my CRM, or elsewhere. I must track those variables in the same order in every link, or my data will end up inconsistent and messy. You need to spell keywords the same in all of your links – 'fb' is not the same as 'facebook'. It's likely that there are more, or different, variables that you are interested in tracking. This is not a problem, but it is vital that you establish a pattern of what variables are recorded, what order they are tracked in, and how they are spelled. This convention needs to be applied to all of your external marketing links. Here is an example convention I am using with my team. I build it as an interactive template with the Express UTM-Builder so feel free to click & scroll around:
Kiss that messy spreadsheet Goodbye
As the default way of building those links is the Google URL-Builder a lot of marketers use a spreadsheet and macros to keep track of their parameters and built links. As you can imagine that is often causing typos or difficulties the more people you include and links you build. The best way to accomplish the aforementioned consistency is with a tool. The EXPRESS UTM-Builder lets you append the data you want to record on to the end of your links without any typing, and it does so in a consistent, reliable way, making your UTM tracking error-proof. You simply decide on your convention, your pattern of what variables you want to record in your links, and the tool guarantees you clean, consistent data in every link.
It's time for you to come up with your own UTM-Links! To give you an easy start, I created this template with which you can play around and test building some URLs. If you like what you see, sign up for the EXPRESS UTM-Builder and start your first perfectly tracked Pinterest campaign! More questions? Drop them in the comments or find me on Linkedin!