How to use UTMs to track your emails – a survival guide
Are you using your CRM to drive traffic to your site? Yes? Congratulations, you're doing something smart!
Are you using UTMs to gain an analytical insight on how your CRM marketing is performing? No? Sometimes? A bit? Un-congratulations, you're leaving easily collectable and vitally important data on the table. But thankfully, we have your back and can get you ready for UTM email tracking in no time! 

IN this article, you will learn:
What are UTMs in email marketing?
It's a safe bet that your CRM marketing varies from one email to the next. You send some links to one region, some links to a different region. Some links are in emails about one vertical, some links are in emails about a different vertical. Some links are in emails offering a promotion, some offer to download a white paper. What we want to know is this: Which uses of my email marketing are performing, and which are not? To do this, we must differentiate between the various links we're sending through the CRM. Here is where the UTMs come in. UTMs, or Urchin Tracking Modules if you feel fancy, are pieces of information that you append to the end of every marketing link to your site. If you want to learn more about the general usage of UTMs, read this article. Or continue to learn about the specifics of UTM email tracking.
A link in a marketing email, with UTMs appended to it, might look something like the following:
myshop.com?
utm_source=newsletter&utm_medium=email&utm_campaign=france_subscribers_new-offer_24-01-2020
After the question mark comes the information we're interested in. This email was sent to subscribers in France, on January 24th, advertising my shop's new offer. When this link is clicked, Google Analytics will record it. Eventually, I will compare the links I created to the clicks I received, and will be able to draw conclusions – maybe red buttons get clicked better than green buttons, or the CTA "Buy now" works better than "Click here". UTMs let me record which marketing efforts are getting clicked. Eagle-eyed readers may notice that in addition to recording the locale, audience type, email content and date, the url also contains a utm_source and a utm_medium. The former records the fact that the link was sent through to people who signed up for the company's newsletter, and the latter records the fact that it was sent, unsurprisingly, via email. It is likely that you also use other advertising channels alongside your CRM. Instead of simply reading 'email', your source may be 'facebook', 'youtube' or something along those lines. Similarly, your medium may 'social-organic', 'social-paid' or 'cost-per-click'. But let's take a closer look into using UTMs for email marketing!
Where should I use UTMs in my email marketing?
This is a classic question, with a refreshingly straightforward answer. Every single external link that points at your website should be tagged with UTMs. Include UTM tags in all of the following:
Any hyperlink
Clickable pictures
Buttons that lead to your website or any landing page
CTAs that are linked
Your email signature
There is one great exception to the above. Never, ever use UTMs on internal links. A link from, let's say, your blog page to your shop page should never have UTMs. Including UTMs here will simply distort your data and give you a flawed understanding of how your links are performing. Your UTM email tracking gets ruined.
This does mean building a number of unique urls to include at various points in your emails. However, this is unavoidable if you want to understand your customer behaviour and increase your clicks, signups and leads! 
To make building those links less painful, we built a tool, the UTM-Builder, which lets you create links via a click-only-interface: It's much faster than typing your information in, and it will save you from typos and other problems.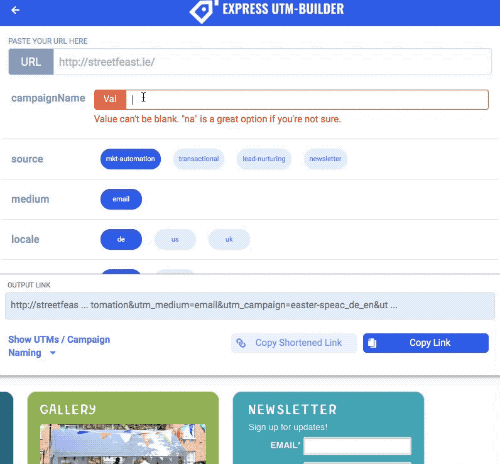 Careful: Some tools like Hubspot put in their own parameters automatically, so don't get mixed up!
Three main Types of emails to get data from
There are a range of types of emails you should try to collect data from. Somewhere in a tagged url, you should absolutely record which category of email the link appears in. These categories include:
1. Newsletters – I bet you've received at least one of these today! This part of your email marketing is regularly sent out to subscribers. They are curations of current company news or seasonal campaigns, containing curated content, updates on upcoming events, or promotion for webinars milestones.
2. Transactional emails – The basic mail correspondence used by almost every e-commerce business. This type of email includes order confirmations, password resets, shipping information and the like. These include everything which updates the customer on their purchases and account.
3. Lead nurturing emails – A sequence of emails designed to lead customers through your marketing funnel. Once automated, these are a time saver and especially helpful for products and services which need to be backed up with educational content.
Examples for UTM email tracking: What information to collect
Well now we're hitting the million-dollar question. There is no exact set answer to this question, as the relevant information to record in your links depends on your business' unique use case. However, what follows are some of the greatest hits, the 'go-tos' if you will:
utm_source for email

Links tagged with UTM data invariably have a variable for 'source'. It generally records the place the user was online when they clicked the link. In other words, it records where the link was published. If all your marketing links exist via email, then your source will always be 'email', 'crm' or another term to that effect. However, you should absolutely be marketing on other channels, and so you'll often see links that record social media platforms, like 'facebook' or 'youtube'.
utm_medium for email

Generally, we want to understand what category of user a given link was shown to. In the context of CRM marketing, you can use 'medium' to track whether the link was in a welcome email, a transactional email, a newsletter, or so on – see the categories explained above. That is to say, in a link where the 'source' datapoint = 'crm', the 'medium' datapoint will be 'newsletter', 'welcome-email' or something of the sort. However, if the source is, say, 'facebook', the medium will record what category of post it is, rather than what type of email. In social media marketing, the 'medium' will usually be 'social-organic', 'social-paid' or something like that.
utm_campaign for email
The campaign parameter consists often of several datapoints. Here are three examples:
locale
Where on Earth are the people who see the link located? Some people like this parameter to be defined by countries or cities, others prefer the differentiation between languages.
focus 
The piece of content containing the link; what was it drawing attention to? What aspect of your USP did it highlight? This datapoint often becomes part of the campaign name parameter.
vertical 

This one is key if you sell multiple products or services. Sometimes is also named "product" and by organising your datapoints, they end up in the campaign parameter.
Format
In what kind of media did the link appear? Was embedded in an image? A video? A signature? You get the idea.
We could go on all day with other variables you might be interested in tracking, as every company has their individual UTM needs. Have a look on how we are using different parameters to track our emails:  
ANY FINAL ADVICE FOR A email MARKETER GOING UTM Tracking ALONE?
Consistency is king. The data you append to your links will eventually become a table in a spreadsheet when you try to analyse it. You will need that data to be clean. 
Spell words the same way from one link to the next
'email',' mail' and 'e-mail' are not

the same thing here. 

There's more to consistency than spelling
You must record the same number of variables in every link. Sometimes a variable might be 'na', and that's fine. It's infinitely better than omitting a variable from some links – picture a spreadsheet with a different number of columns from one row to the next.
Record your variables in the same order every time
myshop.com?utm_source=crm&utm_medium=email&utm_campaign=france_subscribers_new-offer_24-01-2020
is not the same as
myshop.com?utm_source=crm&utm_medium=email&utm_campaign=france_new-offer_subscribers_24-01-2020. Can you spot the difference?
Be consistent across channels
If you're an absolute purist in only marketing through your CRM, than this advice isn't relevant. But if you aren't marketing through other channels, and never plan to, then you have marketing problems deeper than I can fix here. Your social media links need their UTM data to be appended with the same convention as your CRM links, and so on across all your channels. 
Well, that is UTM email tracking for you! These consistencies are needed to make it possible to compare the success of one link, or one campaign, to another, and that's the entire point of UTMs. The best way to ensure consistency is a well-planned setup of your naming convention and to educate all its users about its purpose. A tool helps to eliminate the errors that can arise from using spreadsheets or macros. It will also save time, simplifying the process. Our tool, the Express UTM-Builder, guarantees that every link you tag will have the same spellings, the same number of variables, the same ordering of variables, across every channel. We do the hard work for you.