Chrome Extension
One of the most useful features of the UTM-Builder is the Chrome Extension. The idea of this extension is that you don't have to navigate to utm-builder.com whenever you want to tag a link with UTM-Data. The extension is not for editing your convention, it is purely for making tagged links. When you log in via the extension, you are given a list of the conventions you have access to, and asked to choose one.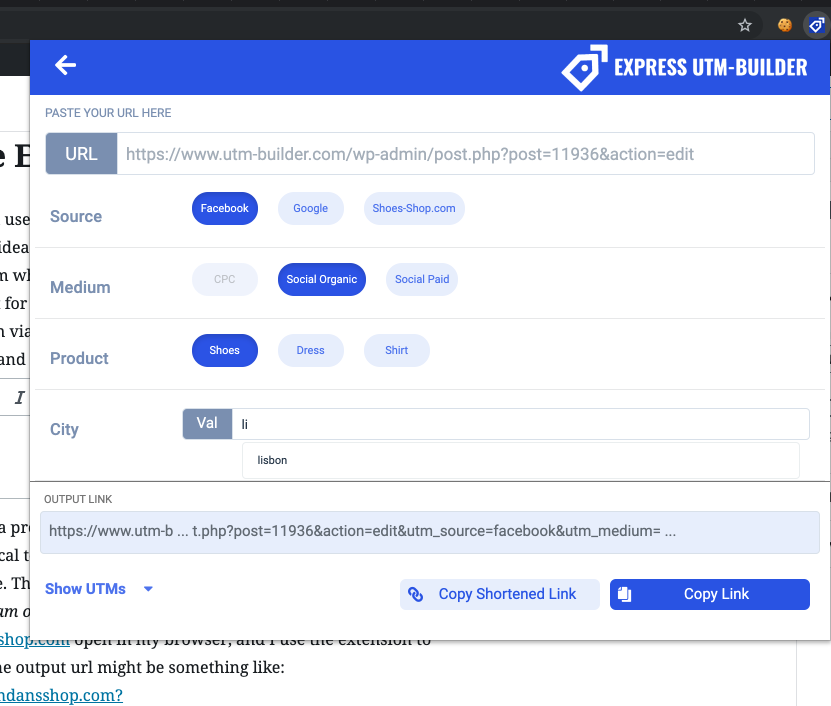 Upon choosing a convention, you are shown the button matrix. This button matrix is identical to what is seen when clicking on the 'preview' button in the editing suite. The extension will append the UTM data to the url of whatever site I am on at the time. For example, let's say I have www.placeholder.com open in my browser, and I use the extension to create a link. The output url might be something like: http://www.brendansshop.com?utm_source=instagram&utm_medium=referral&utm_campaign=germany_german_brand_2019-11-20 

At the bottom of the extension are three buttons:
'Show UTMs' allows you to see a small snapshot of which datapoints are being written to which UTM arguments, and which values are being written to each datapoint at a specific moment. It's very similar to the 'datapoints' panel in the editing suite.
'Copy link' is an essential button which you use to extract the link from the extension before publishing it. Clicking on the url itself, above these buttons, will also copy the tagged link to your clipboard. 'Copy shortened link' is only of interest if you are using a link shortening service (such as Bitly).